Chris Doyle looks forward to these days every year.
As he unpacks his bag of tricks – Rainbow, Corn Yellow and Nymph Grape PowerBait, teeny treble hooks and the crucial Super Duper lure – Doyle says for 25 years he made sure to be ready when the trout come to town.
"This is time I reserve (off from work) every year because it is such a special occasion," Doyle said while standing along the Trinity River near downtown Fort Worth. "It is fantastic. I tell everyone I know about this."
Doyle is among the thousands of anglers lured to the Trinity River every year when the Tarrant Regional Water District and the Texas Parks and Wildlife Department turn the Trinity into a trout fisher's paradise.
Over the past 33 years, both agencies have poured more than 400,000 pounds of trout – most of it trucked in overnight from Missouri fish hatcheries – into the Trinity as part of a popular urban fishing program.
It's even spawned a spring festival with fly fish training, fishing competitions, classes on how to cook trout, and activities for those who don't even bother to drop a line into the water.
"It's a day out on the river and another way of celebrating the Trinity River for the asset it is," said Wayne Owen, planning director for the Water District. "It's been widely well-received."
State officials credit the multiple stockings that start in November for encouraging people to get outdoors during the winter months when they might otherwise be tempted to stay inside around the warm glow of a TV.
Trout stocking the Trinity by the Water District is seen as the "stepping stone" for spreading the state's urban stocking program. This year the state will truck in about 41,000 pounds of trout at 25 sites in North Texas.
Ralph Duggins, a Fort Worth attorney and former chair of the Texas Parks and Wildlife Commission, said one of the agency's ongoing challenges is to provide more opportunities for urban residents to interact with nature.
"Anything parks and wildlife and the river districts can do to increase hunting or angling opportunities is a plus," said Duggins. "It helps foster a love of the outdoors and a respect for fish and wildlife."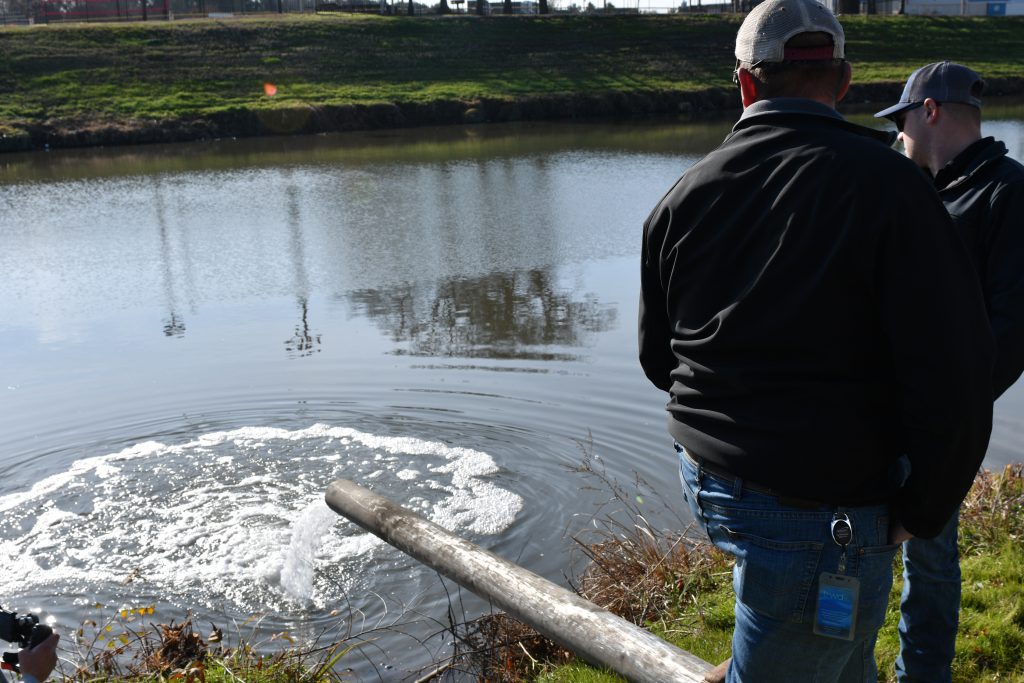 Returning to the river.
This fish story started in 1985, and it seemed like a tall tale.
"It was kind of a crazy thing back then. Really? Trout in the Trinity?" joked Rick Carroll, the Water District staff member who has coordinated the trout stocking program for the agency from the beginning.
The West Fork and Clear Fork of the Trinity River were not a natural habitat for trout. Trout prefer colder water and climate, the kind of weather you experience in Colorado, Arkansas, and Missouri. They are a cool- to cold-water species that do best in water that remains below 70 degrees.
Instead, the Trinity was the home of largemouth bass and catfish, the type of fish that could survive the higher water temperatures that come with brutal Texas summers by diving deep into its pools.
Still, the late Burford King, an avid fisher, outdoorsman, and a Tarrant Regional Water District board member, was determined to make it come true. He grew up in Forest Park when it was still the edge of town, and remembered as a teenager riding his horse to the river to swim and fish.
"The Clear Fork was a nice stream in those days, and you could always find deep holes where you could catch fish even during dry spells," King was quoted as saying in a 1987 Texas Parks & Wildlife magazine article.
King's love of fishing continued as an adult, and he stalked trout on trips to Colorado. With the state's Sesquicentennial year celebrations being planned, King cast out the idea of trout stocking the Trinity.
A subsequent study by two state parks biologists found that the portion of the Trinity near downtown had "excellent potential as an urban fishing area" and would support the "put-and-take" program. The state had been stocking lakes and rivers since 1966.
In 1986, the Water District and the state started by releasing rainbow trout in the Clear Fork adjacent to Trinity Park downtown. For fishers, it meant they didn't have to drive to Possum Kingdom Lake 90 miles away, where the state already stocked trout near the dam.
"It gives them (anglers) a chance to catch a species without traveling so far from home, and in the winter, it's an outdoor recreation opportunity," said Rafe Brock, a Texas Parks and Wildlife biologist in Fort Worth.
The stocking in Trinity Park reeled in more people every year, eventually leading Water District and state officials to add River Park, southwest of downtown, to the places where fish were released.
In 2016, the Water District unveiled the TRWD Flyfest near River Park, a daylong event with fly casting classes – for beginners and more experienced anglers – cooking demonstrations and fishing competitions. For those not hooked on fishing, there's wine, craft beer, and live bands.
For Carroll, trout stocking is part of an evolution of changing the image of the Trinity River from a flood control project and a low-water level pilot channel into a natural beauty that can be a part of Fort Worth's heartbeat.
To help make that transition come to life, the agency has added 14 low-water dams throughout the floodway.
"I can remember when I was a kid on the east side of Fort Worth … and the whole idea of the river it was not a place where people went to fish," Carroll said," We didn't have the park-like amenities we have now."
"It really brings people back to the river," he said.
That's why they call it fishing instead of catching.
It's a cool but clear morning, and folks are already lining the banks at River Park, waiting for the truck with the trout to arrive.
Mike Burke, a retired biology teacher and coach, is sitting on an overturned dark blue Lowes bucket preparing his lines and deciding what bait to use. He's decided to do a bait off of the river's bottom, but to use spinners, too.
"Sometimes they come out of the truck, and they are boom, boom, boom, and they are hitting as soon as they get into the water," Burke said. "Then, they'll settle down for a little bit, and they may pick up again a few hours later. Sometimes it takes a couple of days for them to settle down."
"It is kinda variable. That's why they call it fishing instead of catching because you never really know," he laughed.
This year the Water District and the state will release about 12,000 trout into the Trinity in six stockings between December 12 and March 14. Learn more about it on the Trinity Trails fishing webpage.
The state will release trout into Trinity Park on January 7 and February 5, and at River Park on January 22 and February 5, putting in 1,850 each time. The Water District put 2,500 fish in the Trinity and River park sites on December 12 and will provide 2,000 trout at the March 14 Flyfest.
The Water District's trout are larger – three-quarters of a pound compared to a quarter of a pound for those from the state. The district will have two and three pounders thrown in and even a five-pound trout during Flyfest.
Veteran fishers know it may take days for the fish to get over the shock of being in a new habitat and will spread out along the river.
But what will trick the fish into its "best bite?"
Popular baits include miniature marshmallows, gobs of Velvetta, and canned sweet corn. One fisher uses frozen grasshoppers. There also are manufactured power baits.
A recent Tarrant County College graduate, Tony Tran is one of the youngest along the river's banks. He discovered trout fishing last year, and he's come prepared and is scurrying between three different rod and reels.
In a sign of the times, Tran mixes what he learned from his buddies along the banks and by studying YouTube videos.
"I'm using a fluorescent orange power bait. It sticks out in the water and is the closest thing you can get to the brown used in the hatchery," Tran said.
Would he rather be here than at home playing video games? Absolutely.
"It's outdoors, and it's nice and refreshing. Some days it's cold. Some days it's hot. But in all honesty, I'd rather be outside than anything else," he said.