Artist: Gabriel Prusmack 
Hometown: Galveston, TX
Title of Work: Nature is Design
If Gabriel Prusmack could whisper into the ear of someone standing in front of one of his pieces of his work he would simply say: "Be free." It's not surprising that his hashtag is #befree. 
"That's it. That is what my work is about. Be free," Prusmack said. "You get the full effect of life when you have that in you. God gives that to you. Christ gives you that. He's given it to me."
Prusmack might also add "Love Big," to the mottos of his life. The Galveston native's brightly- colored murals, including the one for the Trinity Trail gallery, "Nature is Design," matches his joy for life with its bright ribbons of pink, orange over a bluish-green background.
"I get inspiration from nature, seeing the patterns and colors in nature and it causes it to come alive in my head," Prusmack said. "We need to walk the world and be blown away by natural color, and be inspired by nature."
Mostly self-taught, Prusmack started doing graffiti art when he was 15. He studied graphic design in college, but found it to be too boring. Still, what he did learn influences his work. His murals and studio work look like something you'd see in the glossy pages of a magazine. 
Prusmack said he's done over 100 murals and 500 paintings. Many of his works include the stripes of bright color ("It's like a child who scribbles. It's a freedom line.") and a circle where something, like the detail of a frog's leg, is dissected. ("That is showing transparency through design work.")
But there is always an exuberance reflected in his work, and his life. It's probably best captured in the video of Prusmack in his trademark three-piece, pink "action-figure suit." He wore it standing on top of a Galveston Island Causeway column that features one of his murals.
"Be free. Be inspired. And that's it," Prusmack says at the end of the video.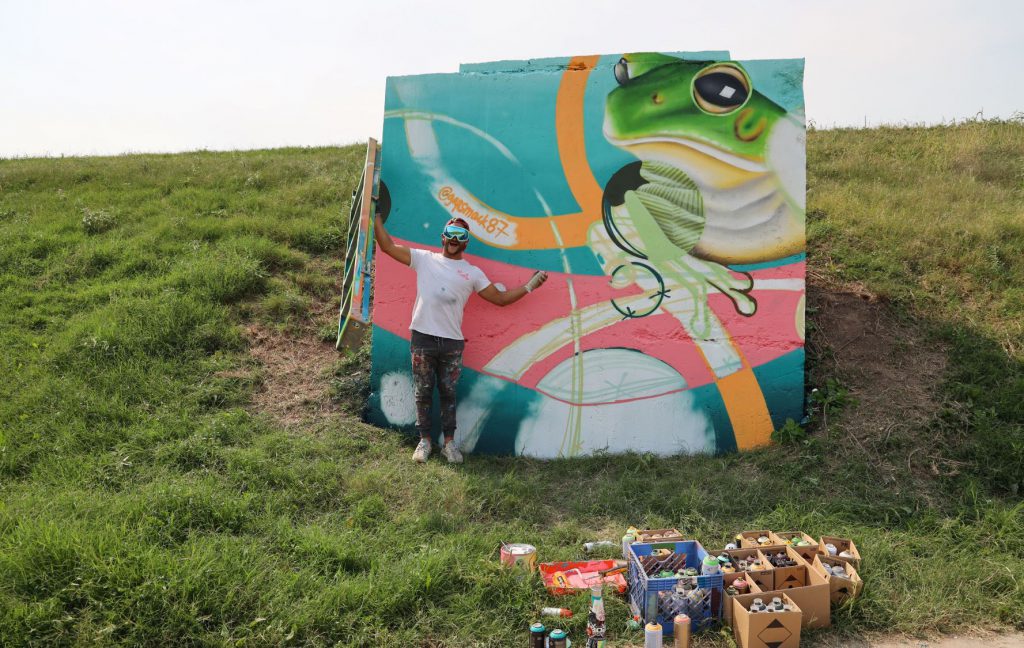 Next time you're out on the trails, keep your eyes open for the colorful creations popping up along the river. You can also follow @TrinityTrails on Instagram to see more pictures of completed and in-progress structures!
Are you interested in staying connected with the Painting the River project? Sign-up for our newsletter and learn about new murals and the project each week.