Artist: Audie Pope 
Hometown: Bedford
Title of Work: Sharing Spaces
You need to go beneath the surface to capture the spirit of Audie Pope's work.
In her mural for the Trinity Trail gallery, "Sharing Spaces," Pope decided to focus on the wildlife that primarily lives in the Trinity River, and not just along its banks.
"When I go to the lake I hope a fish doesn't swim past my leg," Pope said. "But then I thought about it and decided that we should treat them as our neighbors."
"I looked at the surrounding wildlife near and in the river and I decided to concentrate on the animals below the surface," she said.
Tapping into her love for children's book illustrations, Pope used that style to depict Red-eared slider turtles, Channel catfish, Rainbow trout and Largemouth bass.
There's also an American bullfrog swimming by. 
And while those legs dangling in the river, by the way, aren't hers, Pope's joy for life definitely is included in all of her work.
Pope grew up in Fort Worth, graduated from Fort Worth Christian School in North Richland Hills, and studied painting and graphic design at Abilene Christian University.
Besides painting murals in kid's rooms, schools and restaurants, she's also provided the illustrations for a children's book. But this is the biggest mural Pope has ever done.
"While walking down the trails or exploring the river, we often forget we aren't the only ones occupying the space," Pope said. 
"When approaching this project, I wanted to find a way to illustrate our interaction with nature. After looking over the resources provided, I noticed 'community' was a recurring theme.
"And what is community if not cohabitation; sharing spaces," Pope said.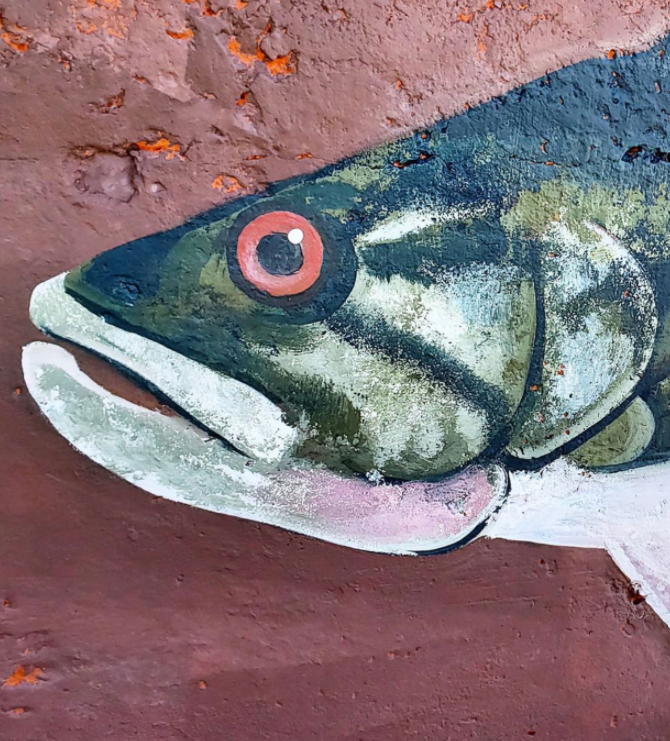 Next time you're out on the trails, keep your eyes open for the colorful creations popping up along the river. You can also follow @TrinityTrails on Instagram to see more pictures of completed and in-progress structures!
Are you interested in staying connected with the Painting the River project? Sign-up for our newsletter and learn about new murals and the project each week.