Artist: Jason Eatherly 
Hometown: Austin
Title: Keep Floating On
Jason Eatherly believes in going with the flow.
Whether he's doing a mural on a building, painting a landscape on canvas or decorating a motorcycle gas tank, he lets his art take him where he needs to go.
It's in that spirit he created his Trinity Trails mural, "Keep Floating On."
There are just wavy lines representing the Trinity River, but in the foreground are more realistic depictions of a butterfly and two flowers – the Pink Lady, and Yellow Bitterweed.  
"I was inspired by the natural flow and beauty of the Trinity River," Eatherly said. "Taking time from our busy schedules to enjoy and take in the effortless landscape."
Eatherly's life has a certain flow to it, too. After growing up in Wichita, Kansas, where he started hanging out with "like-minded" people, including a high school teacher and airbrush artist who taught him how to paint gas tanks on motorcycles. He got "engulfed" in graffiti and street art.
He moved to Dallas with about 60 bucks in his pocket and sold a painting for $600 that "bought him some hotel time." Eventually he ended up in Austin and became a part of its artists' community. It was there that he built a wall in his backyard to practice spray painting. He's done about 300 murals while also building custom chopper motorcycles. 
Inspired by artists Keith Haring, John-Michel Basquiat and Shepard Fairey, Eatherly said he made "Keep Floating On" more "painterly" and less like graffiti. It's a mixture of abstract and realism, he said. "I think overall a lot of people can relate to it."
"The inventive side of my work helps motivate me to continue creating without being held down by one aspect of art: The freedom is what keeps me going," Eatherly said.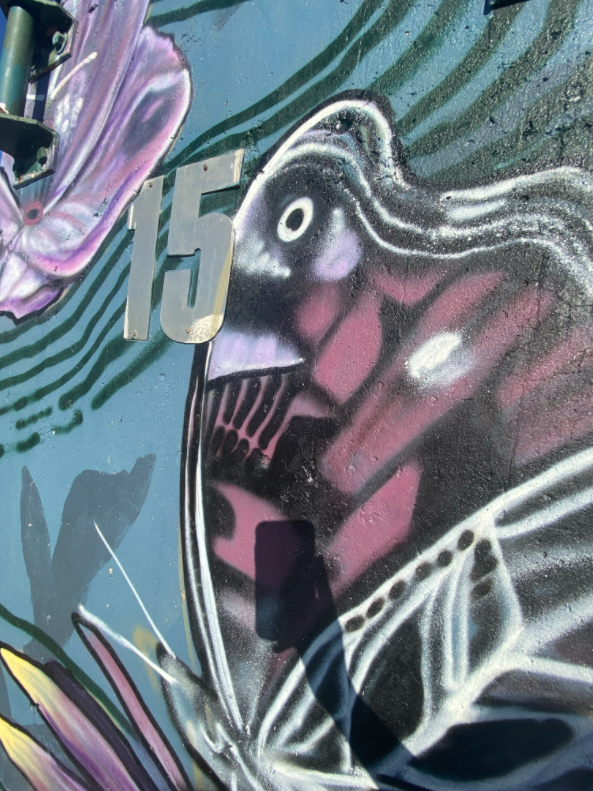 Next time you're out on the trails, keep your eyes open for the colorful creations popping up along the river. You can also follow @TrinityTrails on Instagram to see more pictures of completed and in-progress structures!
Are you interested in staying connected with the Painting the River project? Sign-up for our newsletter and learn about new murals and the project each week.