Artist: John Worley 
Hometown: West Hollywood, CA
Title of Work: Cowboy Punk 2077
John Worley's cowboy is not riding off into the sunset. He's riding into the future.
Worley, who earned his spurs working in the Fort Worth art scene, said his mural for the Trinity Trail gallery, "Cowboy Punk 2077," honors Cowtown's past while anticipating its future.
He said Fort Worth is moving away from where cattle were king to a city where technology, or digital dogies, are being herded.   
"I have a general interest in cowboy culture and how that represents Fort Worth," said Worley, who grew up in White Settlement and Aledo. "I like Fort Worth and the culture that is there, but it's coming into a new era. It's not a typical cowboy town anymore."
For Worley, the use of technology and its impact on society is a recurring theme in his work. A former art teacher, Worley describes his style as "technological glitch-impressionism, "which refers to the pointillistic nature of pixels on a computer screen and features heavily in the effects of his work.
Worley, who has a Bachelor in Fine Arts from Texas Tech, where he also earned a Master of Art Education degree, said his major influences are Felipe Pantone, Mr. Aryz and Olafur Eliasson who experiment with creating art on a large scale and continually reference technology and color and how they change the way one perceives space.
In "Cowboy Punk 2077," Worley and a friend posed as cowboys in a duel to get dynamic poses, which Worley then edited in Photoshop and other software to get glitch effects. With the help of two other artists, Worley used spray paint to apply the design to the Trinity flood gate.
"I chose the cowboy because they were the vanguards of the future, the ones living on the edge, taming the land before civilization overtook everything," Worley said.
"I like the idea of the cowboy riding off into the future."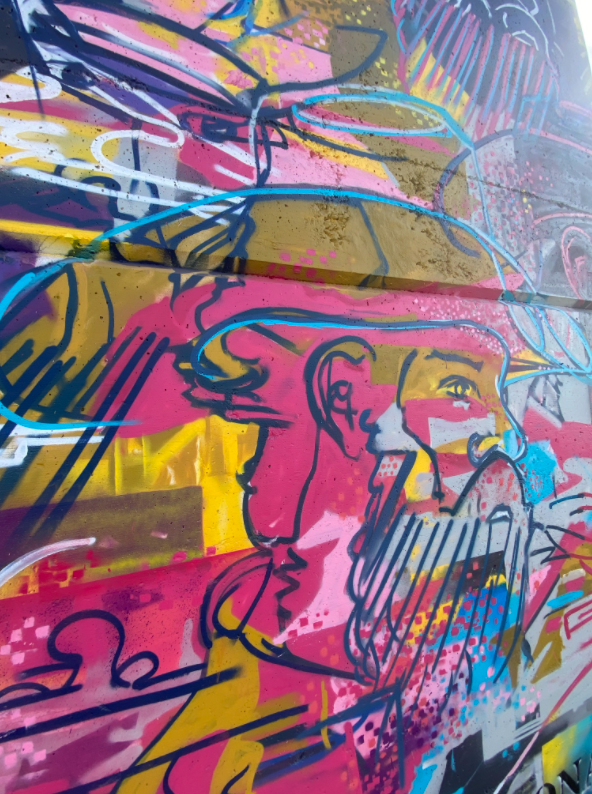 Next time you're out on the trails, keep your eyes open for the colorful creations popping up along the river. You can also follow @TrinityTrails on Instagram to see more pictures of completed and in-progress structures!
Are you interested in staying connected with the Painting the River project? Sign-up for our newsletter and learn about new murals and the project each week.