Artist: Mike Tabor 
Hometown: Granbury
Title of Work: Trinity Trout
Mike Tabor's worlds peacefully coexist in the studio behind his house near Granbury.
First, there's the art. A cowboy riding a bucking bronc. A cowgirl dancing seductively in a Stetson and halter top. A portrait of a Longhorn staring out at the world with trail-weary wisdom.
Then, there are the two saddles and his chaps. A high school teacher and gentleman rancher on acreage that has been in the family since the early 1960s, Tabor's been repairing the saddles this winter. It seems everyone in his family has a saddle, even his mother-in-law.
"It's the ultimate man cave," Tabor said in a deep drawl that belongs by a campfire. He spends hours in his hideaway workspace.  "I like the process of making art. I came from a working background. I paint during the winter and sculpt during the summer."
Tabor's mural for the Trinity Trail gallery "Trinity Trout," is a culmination of years of study and experimentation. The bright colors – dazzling pinks and blues – along with the depiction of two cowboys fishing, is in a "Postmodern Western" style. It's a blend of his early love of pop art and the impressionism he has come to appreciate in his later years. 
"There's definitely a pop art influence (to the mural.) There's a bright, hard-edge, realism style," Tabor said. "I think Postmodern Western art is a little bigger, bolder and looser with brighter colors. It's a new twist on western art."
While Tabor has done other public art, this is his first mural.
Tabor graduated from Tarleton State University, with a degree in art education. It was years, however, before Tabor returned to the classroom. A third-generation rancher, he worked on ranches for 12 years while continuing to pursue his art.
Along that trail Tabor started hanging out with Western sculptor and fellow Granbury resident Dan Coates. ("He'd sculpt and I'd paint and draw.") Now he spends half of his time sculpting Western-themed art.
After 30 years of teaching, Tabor is retiring but he's far from hanging up his hat on his art. His backyard studio will continue to be a hub of activity, and a hideout.
Tabor said he plans to continue defying the college professor who said that he'll never come up with a style that hasn't been done before.
"I will continue to spin western art into a new direction," Tabor said. "If you're not evolving, you're not having fun anymore."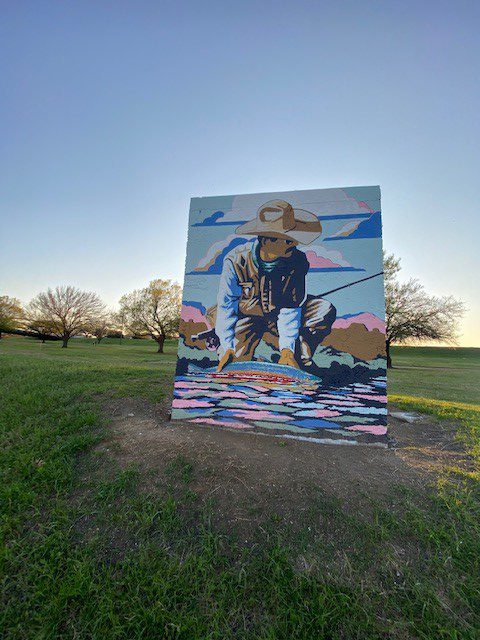 Next time you're out on the trails, keep your eyes open for the colorful creations popping up along the river. You can also follow @TrinityTrails on Instagram to see more pictures of completed and in-progress structures!
Are you interested in staying connected with the Painting the River project? Sign-up for our newsletter and learn about new murals and the project each week.