Artist: Fernando Rojas 
Hometown: Fort Worth
Title of Work: The Panther
The minute Fernando Rojas stumbled upon the sleeping panther statue near the Flatiron building in downtown Fort Worth, he was inspired. He took photographs, then spent hours observing the statue. A newcomer to the city, he was fascinated by the tale of how the panther became a symbol of the city's culture and strength.
Then, Rojas filed it all away, knowing someday he would make it his own.
That day came when the fledgling artist and architecture student submitted his design for "The Panther" for the Trinity Trail gallery. Done mostly in black and white, Rojas' mural stands out from the other, more realistic and colorful pieces.
"I trace it all back to that panther in the plaza," Rojas said. "I think it was a great subject because the panther belongs to the river, and it's a great way to represent the city and its culture at the same time."
Rojas moved to Fort Worth from Mexico when he was about 18 years old. He always considered himself to be creative and interested in anything visual. His mother is a photographer, and his grandfather painted landscapes.
But Rojas' "art journey" didn't really begin until after he was accepted in the architecture program at the University of Texas at Arlington. In one class he was pushed to think of doing his sketchbook doodles on a bigger scale. He got into charcoal drawing and developed more confidence by practicing – a lot. 
"Through hours of observing I've been teaching my eye to see and represent it through my craft," he said. "Architecture school has pushed me to where I am."
Rojas counts as his influences the muralist Keith Haring, artists in the Mexico muralism movement as well as tattoo and comic book artists. He describes his style as "concise, street-art inspired." He only adds color – like the yellow box that frames the panther – to "add to the skeletons of the work."
Rojas has only painted a handful of murals in the past year and a half. But he hopes to make a living as both an artist and an architect.
"Designing houses and murals have the same process, but with different languages," Rojas said. "I would be happy doing both."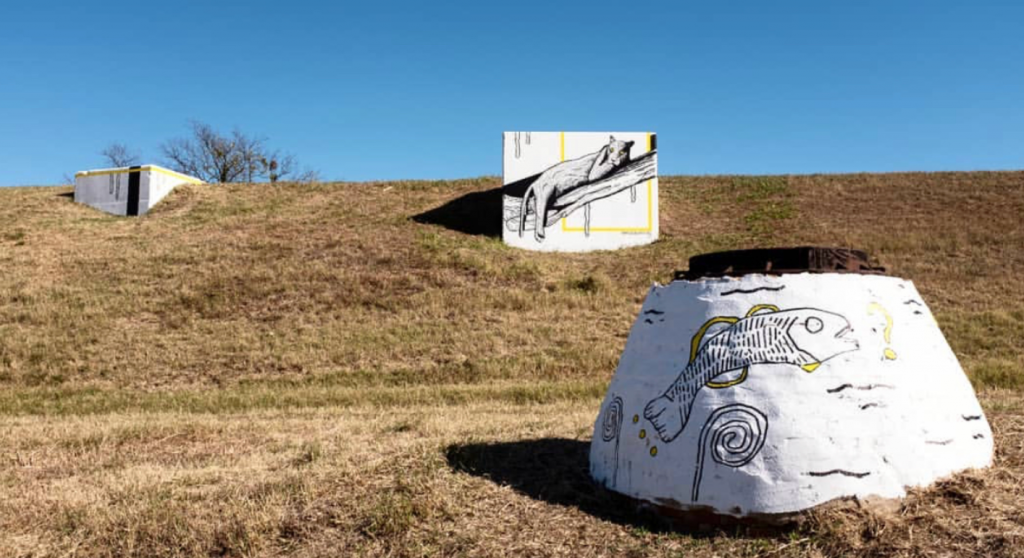 Next time you're out on the trails, keep your eyes open for the colorful creations popping up along the river. You can also follow @TrinityTrails on Instagram to see more pictures of completed and in-progress structures!
Are you interested in staying connected with the Painting the River project? Sign-up for our newsletter and learn about new murals and the project each week.