Artist: Anthony Padilla 
Hometown: Ridgewood, NY
Title of Work: Wild Trinity
Drink in the deep, rich, sensual colors in Anthony Padilla's "Wild Trinity" painting.
The dark, twisting tree trunk. The vibrant green foliage. Stark white hibiscus and bold yellow and pink lilies hang nearby. Perched on a limb, its neck twisted just so, is a Snowy egret.
"I like the contrast with the light-colored skies. In the darkness is an eeriness. Like a densely packed forest that is a little scary, but also captivating," Padilla said.
"There's something that draws you in."
It probably comes as no surprise that Padilla draws part of his inspiration from artists like Georgia O'Keefe and Henri Rousseau, who mastered turning raw nature into high art.
Padilla, who grew up in east Dallas before moving to New York, is self-taught, although he comes from a family of painters. Although they painted houses, not art, he joked.
In Dallas, the Trinity River has a reputation as a trashy ditch, although there are efforts to bring it back. He appreciates what's been done to clean up the Trinity as it winds through Fort Worth.
"It looked like an ecosystem that is thriving," Padilla said.  
His work for the Trinity Trail gallery mirrors his earlier work of dense flower petals and foliage. Padilla describes his work as "lush, vibrant and encompassing." It's also been said that his paintings explore "the natural elements of our planet as an exercise in understanding elegance."
Padilla studied the river's ecosystem before attempting this mural, but the idea of adding the hibiscus came after he found some growing near the train tracks nearby. And while one of his paintings typically take months to create, his multi-sided mural for the gallery took about 10 days.
Still, he's happy with his submission.
"Wild Trinity. That's what the Trinity is. It winds through the city but it's still partially wild – without the human touch. It would be that way if we were here or not."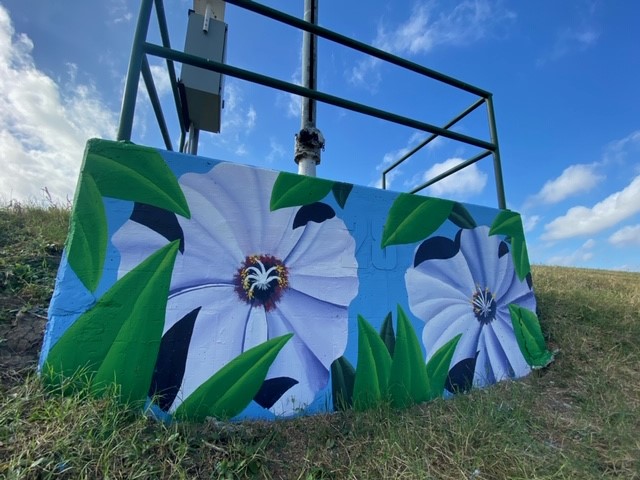 Next time you're out on the trails, keep your eyes open for the colorful creations popping up along the river. You can also follow @TrinityTrails on Instagram to see more pictures of completed and in-progress structures!
Are you interested in staying connected with the Painting the River project? Sign-up for our newsletter and learn about new murals and the project each week.